Camp at the Hillsdale County Fairgrounds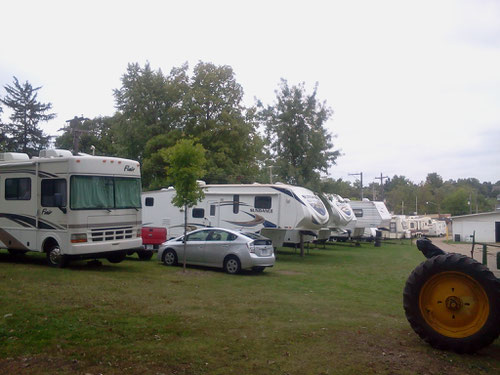 Camping fees are $20.00 per night
Open April thru October, Excluding Fair Week  (subject to change)
Licensed Campground - Groups Welcomed
Please note our office is only staffed
Monday - Friday 8:00-4:30
If you arrive after hours or on the weekend, please place your payment in the drop box located at the fair office.
Water & Electric 
Some Sewer hook-up available - Sanitary Dump Station on site  
Plenty of Shade Trees
Great Place to get away!!!!!
1. Camping fees will be paid for each night the campsite is reserved, or camping unit is on the site occupied or not.
2. Each campsite is required to have a responsible adult (21 years or older), staying with the group each night. Emergency contact person(s) and number(s) should be given to the office.
3. Table & chair rental available for groups  
4. We feel that your pet is a part of your family, and is welcomed as such, but please keep it on a leash at all times. Pets are not to be tied outside unattended. Please do not leash pets to trees. NO BARKING DOGS. Animal waste MUST be retrieved immediately and properly disposed of.  
5. Public intoxications, disorderly conduct, profanity and loud parties are not tolerated. 
6. Quiet hours are 10:00 p.m. to 7:00 a.m. Sunday to Thursday. 11:00 p.m. to 7:00 a.m. weekends & holidays. 
7. Do not wash your vehicles or rigs in the campground
8. Firearms, bows & arrows, fireworks & air rifles are not permitted. 
9. Campfires are not allowed.
10. THERE IS TO BE ABSOLUTELY NO DISCHARGE OF WATER OR WASTE ON THE GROUND, by order of the Health Department and the Agricultural Society.
11. Sanitary Dump Station fee is $5.00 for non-campers.
Office business hours Monday - Friday 8:00 a.m. to 4:30 p.m
Closed Saturdays and Sundays
For information please call (517) 437-3622 during business hours. 
***RULES SUBJECT TO CHANGE***